The Perth Experience Tour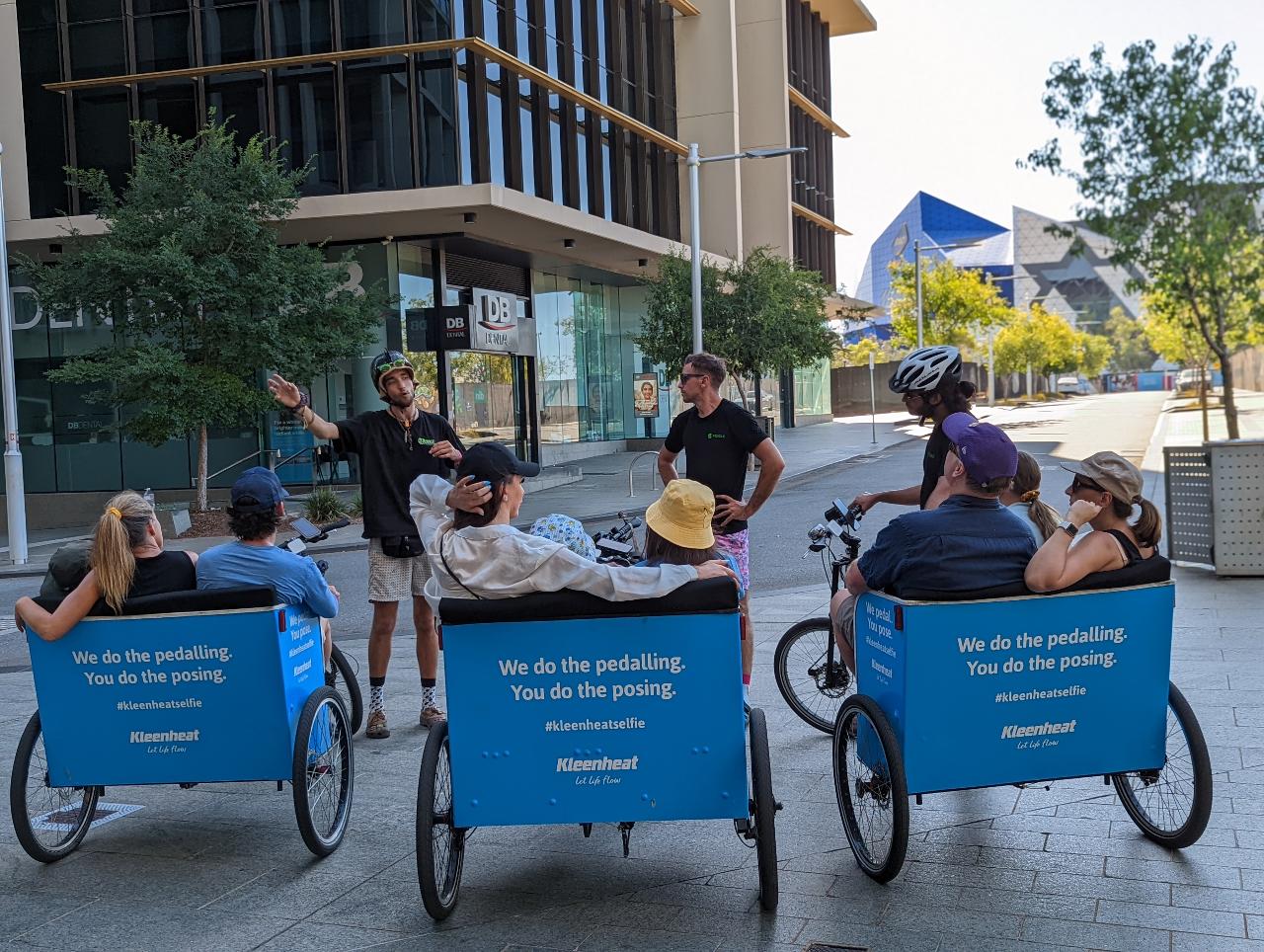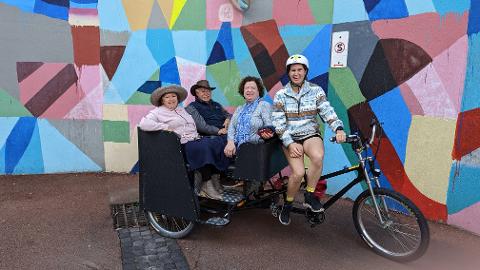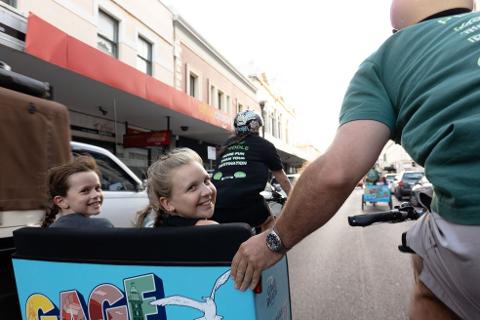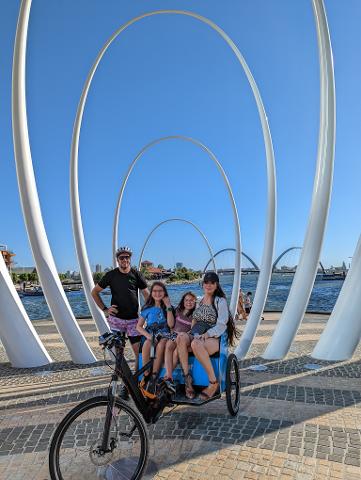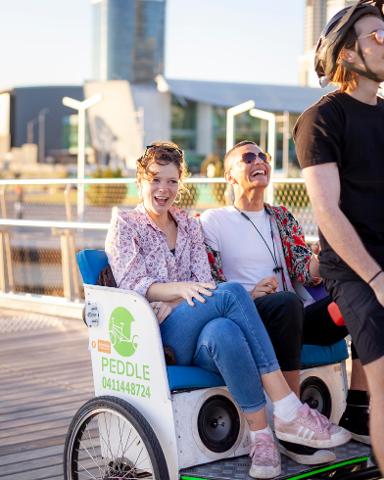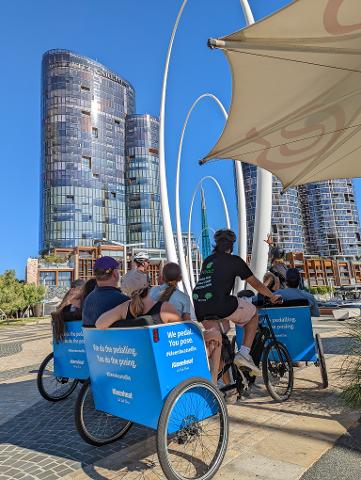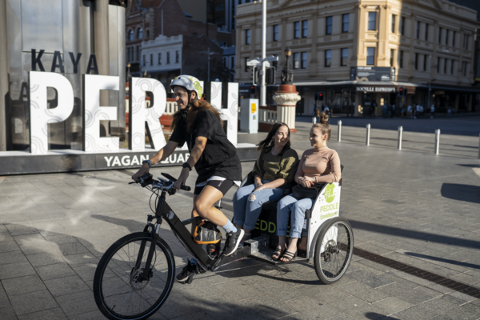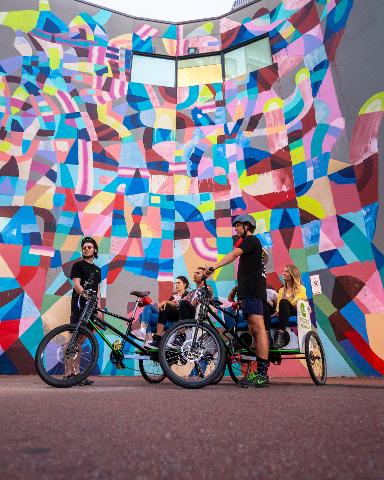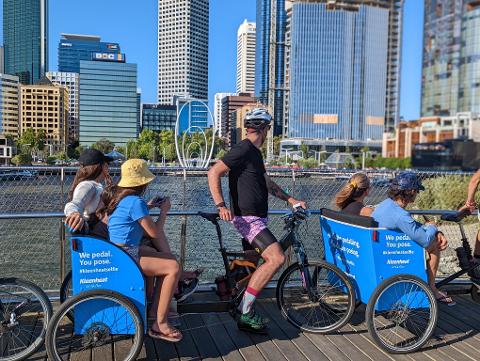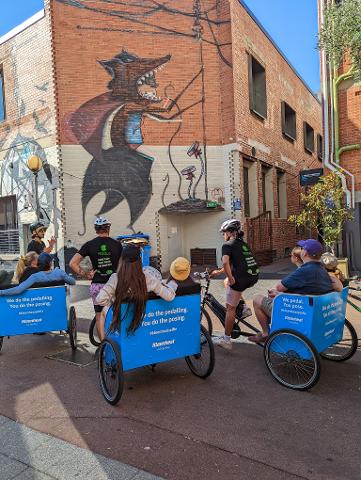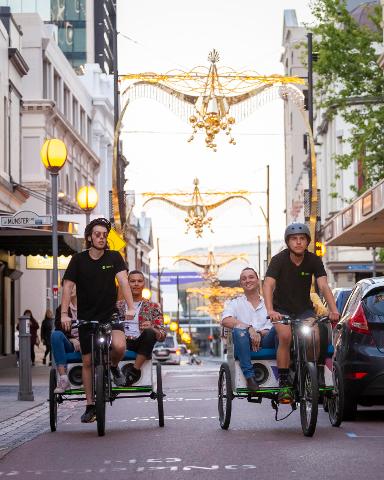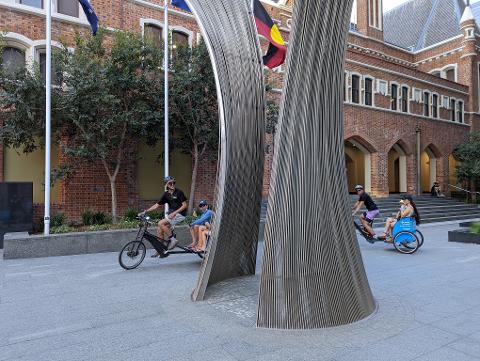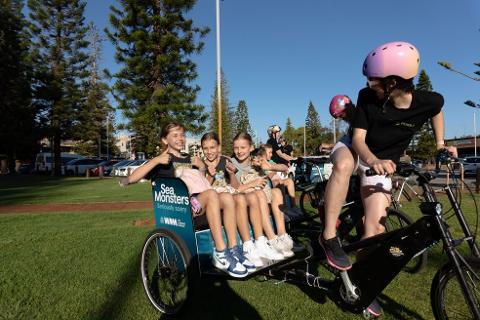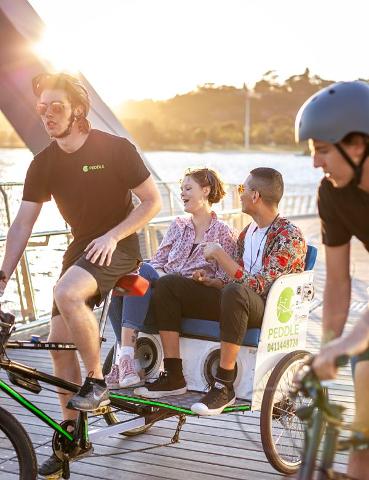 Duration: 90 Minutes (approx.)
Location: PERTH, WA
Product code: CITYTOUR
Discover the magic of Perth from a unique perspective with Peddle Perth's Rickshaw Chariots.
Our engaging, informative tour lets you experience the city's landmarks and hidden gems while comfortably seated on a rickshaw chariot. Driven by experienced, fun-loving Peddlers of Perth, this unique tour is perfect for family outings, tourists, staff parties, birthdays, couples, and anyone seeking new, exciting experiences.
The Experience
Imagine your anticipation rising, a sense of adventure brewing, as you gather with your group at the breath-taking WA Museum. From the heart of Perth's dynamic growth, you glimpse a colourful parade of rickshaw chariots, pedalled by a team radiating energy and warmth. The heart-thumping beats of music reverberate through the air, stirring up an infectious vibe that hints at the exhilarating journey ahead.
With a cheerful greeting from your dedicated and experienced Peddle chauffeur, you're welcomed into the Peddle family. This isn't just a pick-up; it's the commencement of your thrilling Perth saga. As you're briefed about the thrilling escapade that lies ahead, your pulse quickens, the excitement reaches a crescendo, and the story of your adventure begins.
Now, you're ready to step aboard your private Peddle chariot. As the wheels start turning, the rhythm of your chosen soundtrack sets the pace for your exploration. You're not just a tourist hopping from one spot to another; you're a traveler delving deep into Perth's heart, unearthing layers of history, architecture, and culture that usually remain concealed.
Picture this - you're embarking on a thrilling escapade through Perth, seated comfortably on our state-of-the-art Peddle rickshaw. From the moment your lively and experienced chauffeur greets you, the pulse of your adventure quickens.
As the wheels start turning, the rhythm of your chosen music blends with the heartbeat of Perth, creating a symphony that guides your journey. From the futuristic vista of Elizabeth Quay, navigating through the technicolour labyrinth of Wolf Lane, to the glowing beacon that is Council House - we transform each iconic spot into a chapter of Perth's riveting tale.
You see, with Peddle, you aren't merely visiting places. You're absorbing the essence of the city, unravelling the narrative threads that tie the landmarks together. We don't just guide you through the streets; we invite you to become part of Perth's story. It's like the words of Ralph Waldo Emerson distilled into an experience: 'It's not the Destination, It's the journey.'
And as our tour progresses, prepare for unexpected turns and surprising reveals. Because just when you think you've seen all Perth has to offer, we know how to unveil a new layer of fascination. Each trip with us isn't simply about reaching the next landmark; it's about the shared laughter, the discovery of hidden gems, and the captivating stories that breathe life into the journey.
So, if you're seeking a journey that harmoniously blends fun, music, tales, and unforgettable sights, allow Peddle to be your guide. Let us redefine the way you explore Perth - one pedal, one beat, one story at a time.
Common Questions
Can you accommodate everyone, including those with special needs or mobility impairments?
Absolutely! We think everyone has the right to enjoy our tours. If you or someone in your party has special needs or mobility impairments, please leave a note for us upon booking. We will arrange for the most suitable rider to take your tour and ensure they receive a full briefing on your requirements. Whether you have elderly parents that need a hand getting onboard, a child that has sensory issues, or a mate that is stuck in a moon boot, we will work with you before and during your tour to make sure your unique needs are met.
Where can I leave my pram, stroller, or wheelchair during the tour?
If you're bringing along a pram or stroller, we can lock it up for you, or leave it with the museum staff at the starting location.
What's included in the price of my ticket?
Your ticket unlocks a two-hour, immersive journey through the heart of Perth. It secures your spot on a state-of-the-art Peddle rickshaw, boasting the plushest rickshaw seat in town and helmed by your personal, charismatic chauffeur. Revel in the premium experience as you effortlessly cruise through the city streets, feeling like royalty. Moreover, prepare to amplify your Perth IQ, absorbing fascinating titbits along the way. But above all, expect to foster a deep, newfound appreciation for Perth's unique charm and vibrant pulse. So, sit back, buckle up, and let Peddle provide an unforgettable adventure.
Where does the tour start and end? Can you drop us off somewhere else afterwards?
Our epic Perth adventure originates from the remarkable WA Museum. It's here, amidst the backdrop of history and culture, where you'll first hop aboard your Peddle chariot. As for the end of your journey, we strive to accommodate your needs. If you wish to be dropped off at a different location within a practical distance, we're more than happy to oblige! Just make sure to reach out to us in advance, and we'll ensure your journey concludes exactly where you want it to.
What's your cancellation policy?
We understand that plans can change, and we aim to be as flexible as possible. Should you need to cancel your tour, we provide the option to reschedule or a full refund for cancellations made at least 7 days in advance. Should Mother Nature intervene and force us to cancel due to bad weather, rest assured, we will always offer to reschedule or refund your tour. For those unforeseen last-minute cancellations, we handle these on a case-by-case basis. Please feel free to reach out to us at 0411 448 724 or tours@peddleperth.com, and we can discuss possible options.
Important Ticketing Information
Our Perth Experience Tour offers two distinct ticket types, each designed to fit your group size perfectly. Remember, we price our tickets per bike, not per person!

The regular ticket is for a group of 3, in the following combinations on a 2-seater rickshaw: 1 adult and 1-2 small children, 2 adults and 1 small child, or 2 adults

The family ticket is for a group of 5, in the following combinations on a 4-seater electric-assist rickshaw: 2 adults and 2-3 small children, or 1 adult and 3-4 small children
While we acknowledge your children will always be your children, for our tours we categorise individuals aged 13 and above as adults. As your youngsters grow, so do their legs! To ensure the comfort and safety of our peddlers, we appreciate your understanding of this policy as we navigate the charming streets of Perth.
Reviews from TripAdvisor
"We had a great time with Youcef as our rider. The experience was a unique and very fun way to be a tourist in our own City. We got to see it from a new perspective and visit a few bars along the way for a cocktail or 2. I highly recommend Youcef and the rest of the team at Peddle Perth Rickshaw experience."
"I can't recommend Zac and his crew enough! Definitely one of the best experiences out there. Ridiculously fun, great knowledge of the area and absolutely seamless from the booking through to the end of the tour. Do yourself a favour and jump on board with the PeddlePerth team, you won't be disappointed!"
"We did the family city tour. Our riders Youcef and Callum were great. Very knowledgeable and great entertainment. Would definitely recommend to family and friend's. Keep up the Awesome work guys "
"Probably the best birthday party I have ever had. The guys were so much fun and really added to the whole experience. We laughed the entire time and now ALL my friends wants to have a Peddle Perth Birthday. Thanks so much for such a fun & EPIC tour!"